Organization Members
To invite members to your Organization, go to the Organization Settings and select the "Members" tab from the sidebar on the left: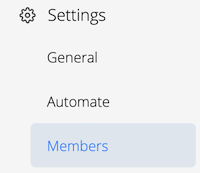 A list of people that belong to your organization will be shown.
In order to invite other people, enter the email address of the person you would like to invite, select their Role, and click the "Invite" button. Optionally, click "Add more" to invite multiple users.
Roles
Each Equo account is an Account Owner for their Personal Account. Equo Organizations have two roles, Owner and Member. Owners have elevated permissions to manage and edit all aspects of an organization. Members have limited permissions.
The following table shows the roles within an organization and the actions they can take:
| Permissions | Organization Owner | Organization Member |
| --- | --- | --- |
| Manage builds | Yes | Yes |
| Manage releases | Yes | Yes |
| Manage organization members | Yes | No |
| Manage billing | Yes | No |
| Delete organization | Yes | No |
| Manage organization settings | Yes | No |
| Create applications | Yes | Yes |
| Sign applications | Yes | Yes |
| Manage application settings | Yes | No |